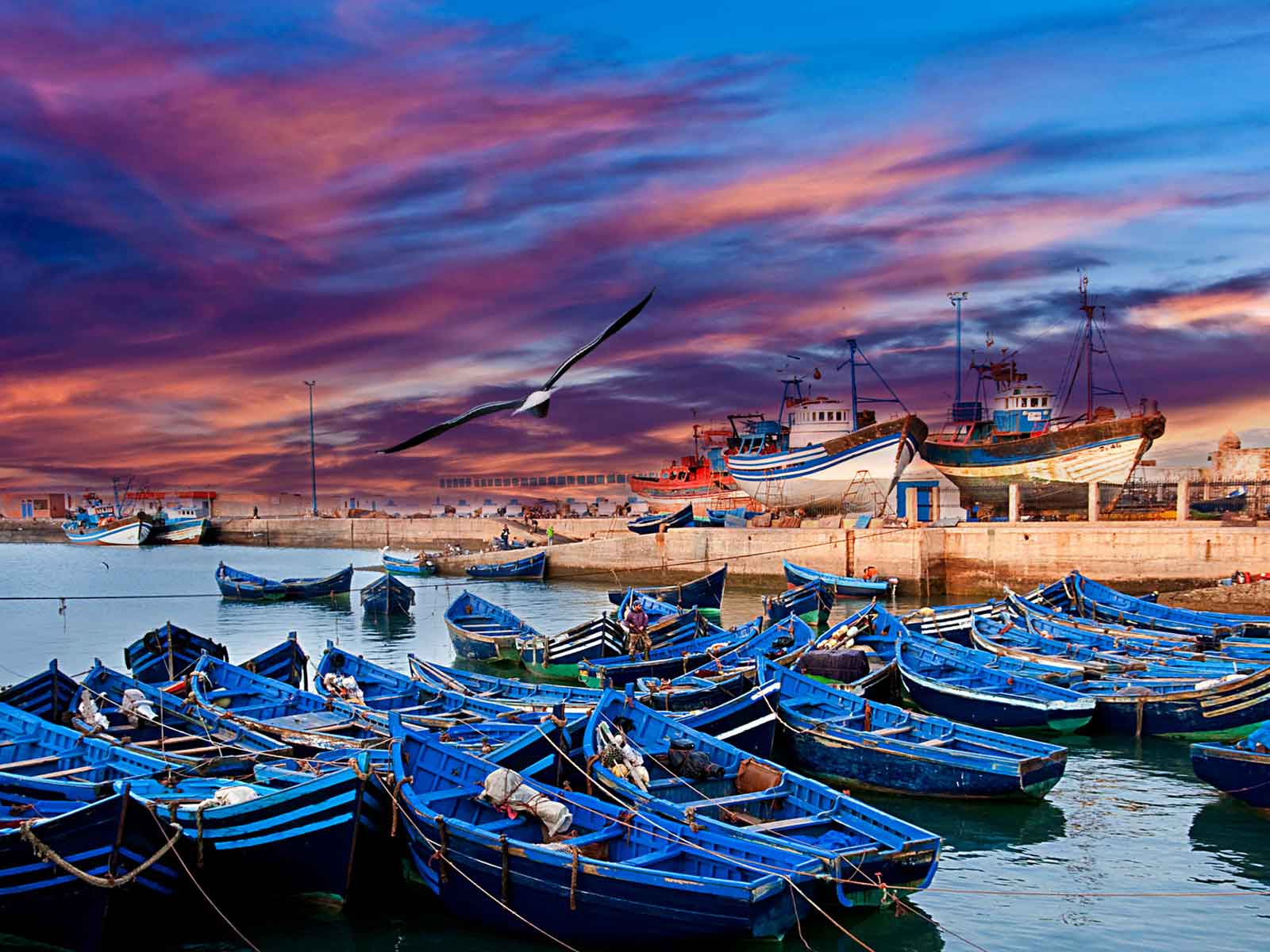 Essaouira Day Trip from Marrakesh
Essaouira Day Trip Highlights
Enjoy a relaxing moments in the sea side.
Explore the old mogador and the medina of Essaouira.
Visit a traditional co-operative of argan oil
Explore Essaouira's traditional port and enjoy a fish lunch at local restaurant.
Discover the medieval architecture of Mogador.
See the Argan forest while driving to Essaouira city
The town of Essaouira  is located 176 km from Marrakech about 2 and a half hours away, on the western coast of the Atlantic in Morocco, known for its various nicknames such as "The Pearl of the Atlantic" and "The Sleeping Beauty" you can enjoy This wonderful town for a whole day since it has all the charm of cities open to the sea.
Declared a World Heritage Site, it maintains the charm and authenticity of a land lost in time, its beautiful walled center, its warm climate, the immense beaches and the proximity to the desert attract all kinds of tourists, from those who seek to enjoy of calm, good cuisine, the hospitality of its people, even the most athletic people who like the sea and its activities such as windsurfing since its trade winds are a perfect combination for water sports.
We can emphasize that the medina of Essaouira is completely different from any other medina in the world, surrounded by fortified walls whose objective was to protect the city from the sand and the wind and with its three entrance doors and its cannons facing the ocean make this city coastal one of the most visited.
Its small medina where tranquility reigns is divided into squared neighborhoods where you can appreciate the classic network of Moroccan streets with its vendors and merchants, its houses with white walls and the blue of its windows and doors that remind a little of the Mediterranean islands, They give it its own personality and different, we can walk quietly and soak up the charm, relaxed and quiet environment that this town offers us.
The fishing port located to the southwest of the medina and endowed with frantic colors and picturesque images is one of the key points of Essaouira, frequented by innumerable seagulls juggling not to lose their balance waiting for the arrival of small boats to port give a very relaxing, next to the port you can find some food stalls where they offer different types of fresh fish and seafood cooked on the grill.
Another thing that is worth visiting is the Portuguese fortress where you can walk the entire wall that borders part of the city with its old canyons facing the sea and offers us spectacular views of the Atlantic.
Why book with us?
Best price guaranteed
Customer service available 24/7
Best selection of activities
Quick and easy booking
The best value for money
More than 300 customers satisfied in 2018